So what's the story going to be?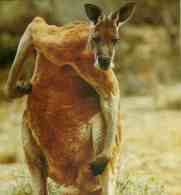 OK, OK, enough with all this delay. Should I just hop on off into the sunset so you can steal my space, or did you get the deal done? A kangaroo has a right to know, doesn't he?
I mean, after all, it is not every kangaroo who is the star of the blog of the day at CrabAppleLane Blog, so should not a star of my magnitude be entitled to just a little bit of courtesy?
Posted by Kang A. Roo at November 22, 2003 03:40 PM | TrackBack