Happy Texas Independence Day, ya'll!

Do you think that the Texas Supreme Court would have ruled this way?
This morning I heard a man who called in to a radio talk show tell about how a 13-year-old shot his sister. He watched his sister suffer for twelve days before she died. During his trial, the boy said that the crime gave him "a rush."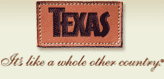 It appears that gang leaders will be recruiting more under-eighteen "children" to do their dirty work. After all, they're not really responsible, are they?
Posted by Moona at March 2, 2005 07:15 AM | TrackBack