Is this evidence of a dance with the Devil?
If a grilled cheese sandwich with a purported "Virgin Mary image" sold for $28,000, perhaps the pet-store owner needs to put this one on E-Bay: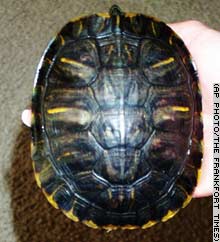 An Indiana pet store owner says he sees the image of Satan on the shell of a turtle that was the only survivor of a store fire in October.

The palm-sized red-eared slider turtle, named Lucky, was the only animal to survive the fire at Dora's A-Dora-ble Pet Shop in nearby Frankfort, about 40 miles northwest of Indianapolis.

Owner Bryan Dora now says he sees Satan's face on the critter's shell. He can spot lips, eyes, a goatee, shoulders and a pair of pointy horns on Lucky's back.

"The marking on the shell was like the devil wanted us to know he was down there," Bryan Dora said. "To me, it's too coincidental that the only thing to come out unscathed would have this image on it."

Could this have been one of the Teenage Mutant Ninja Turtles who lost the battle against evil?
In animation, the Teenage Mutant Ninja Turtles are four wise-cracking, teenaged, pizza-scarfing cartoon turtles who fight the forces of evil from their neighborhood sewer hangout.
Or did he make a
deal
in order to survive the fire?
Posted by Moona at March 21, 2005 05:32 PM | TrackBack